Introduction
If you are planning a trip to France, consider staying in an elegantly furnished and comfortable private apartment or hotel suite. Not only will it enhance your enjoyment, but it can help trim your travel budget with savings on accommodations and living expenses.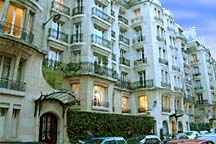 Given the small size of most Paris hotel rooms, apartment rentals and hotel suites generally offer you more space and conveniences – particularly if you have small children, or are traveling with close friends. Modern kitchens allow you to shop at Paris' wonderful food markets and prepare meals at home. After all, eating out in the City of Light can be an expensive proposition!
Rentals are located in much sought-after neighborhoods – such as Champs-Elysées, Opéra, the Latin Quarter, and fashionable Saint-Germain. Listings range from a cozy Left Bank studio to a 16th-arrondissement penthouse. Revel in the authentic charm of your own private retreat, and explore your neighborhood – the sidewalk café, the bakery, the charcuterie, the outdoor market.
All the Comforts of Home
Apartments are fully equipped and immaculately maintained by our experienced rental agencies. In fact, visitors need bring only themselves and a toothbrush! The kitchen includes all dishes, cookware and utensils you could need. Accommodations include bed linens, bath towels and guest soaps, a private telephone line, color TV, electricity and other utilities, check-out cleaning, and a 24-hour emergency hotline. Free pick-up and delivery of laundry and dry cleaning may be provided, as well as arrangements for an airport shuttle upon request.
In addition, our guests can choose from several optional services, including early check-in, late check-out, expedited key-return, museum passes, a comfort kit (two pouches, containing cleaning goods and kitchen condiments), a wine kit, cheese dish, and a tray of gourmet delicacies to welcome you upon your arrival. Please refer to individual apartment descriptions for available options.
Rental Fees
Prices range from $85 to $180/night for a studio, $100 to $250 for a one-bedroom apartment, and $140 to $350 for a two-bedroom unit. Three-bedroom apartments, popular with large families or groups of friends sharing expenses, start from $300 a night. The minimum stay for all our properties is 5 nights.
To guarantee a reservation, some properties may require a 50% deposit at the time of confirmation, and the balance 30 days prior to your arrival in Paris. Others require only a credit/debit card guarantee up front, and the owner or agency will settle accounts with you upon your arrival. Please consult the Cancellation Policy in each property's description. American Express, MasterCard or Visa cards are accepted methods of payment.
Popular Locations
Some of the most popular apartment- and suite-hotel properties include Adagio, Appart'City, Appartement, Appart'hotel, Citadines, Cosy's, Fraser Suites, Park & Suites Prestige, Résidence Alma Marceau, Résidence Villa Daubenton, Résidhome, and Turenne Le Marais.
Check Availability
You can browse through all our listings by selecting your preferred arrondissement (or all of Paris) from the twin drop-down menus in the header above, or use our Search Form below. As of December 2012, there were more than 90 serviced or self-catered apartments listed for Paris. Some of the other cities in France also offer a limited number of apartments.
If you're planning on a ski vacation, places like Chamonix Mont-Blanc offer a large selection of apartments and studios, but these fill up quickly in all seasons. Be sure to book your stay well in advance to avoid disappointment!
Every listing offers a gallery of photos, floor plans, and descriptions. Once you have found a property to your liking, you can check its availability for your travel dates, and reserve it securely online.
Since 1985, many thousands of travelers from around the world have enjoyed living in a private French apartment for their vacations or business trips. Numerous articles in the New York Times, Boston Globe, USA Today, Mature Traveler, and other reputable publications have extolled the virtues of this authentic travel experience.
We hope to welcome YOU warmly in the very near future!
Search Form
The Search Form below will permit you to check availability of all properties for your anticipated travel dates. Click on "Show advanced options" to select properties according to their star ratings, the geographic radius (acceptable distance from the city center), and desired facilities (such as fitness center, swimming pool, Internet services, etc.).
Book all your travel arrangements at Discover France...
We look forward to serving your every travel need – including air, auto, bus and rail transportation, guided tours, hotel and youth hostel reservations, vacation rentals, cruises, currency exchange and more. Discover France is constantly expanding its services to better reflect the needs of our visitors. We are dedicated to your satisfaction, and grateful for your patronage and support.