Select language:

The Hostelling Experience
Hostels provide budget-oriented, sociable accommodation where guests can rent a bed (usually a bunk-bed) in a dormitory – while sharing a bathroom, lounge, and (most often) a kitchen. Rooms can be mixed or single-sex, although private and/or family rooms may also be available. Some hostels will include a hot meal in the price of lodging.
Hostels are generally cheaper for both the operator and the occupants; many hostels have long-term residents whom they employ as desk clerks or housekeeping staff in exchange for free accommodation.
In a few countries – such as Australia, Ireland, the U.K., and throughout Asia – the word hostel usually refers to establishments providing longer-term accommodation (often to specific classes such as nurses, drug addicts, or court defendants on bail), where the hostels are sometimes run by Housing Associations and charities. In India and Pakistan, hostel also refers to boarding schools or student dormitories in resident colleges and universities. In the rest of the world, the word hostel refers only to properties offering shared accommodation to travelers or backpackers.
Within the "traveler" category, another distinction can be drawn between hostels which are members of Hostelling International (HI), a UK-based, non-profit organization encouraging outdoor activities and cultural exchange for the young (formerly the IYHA), and independently-operated hostels. Hostels for travelers are sometimes called backpackers' hostels, particularly in Australia and New Zealand – where they are often referred to as simply "backpackers".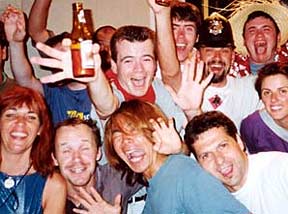 One meets the friendliest people in a hostel!
History of hostels
At Altena Castle in Germany, Richard Schirrmann created the first permanent Jugendherberge or "Youth Hostel" in 1912. The first Youth Hostels were an exponent of the ideology of the German Youth Movement, to let poor city youngsters breathe fresh air outdoors.
The youths were supposed to manage the hostels themselves as much as possible, doing chores to keep the costs down and build character, as well as being physically active outdoors. Because of this, many Youth Hostels closed during the middle part of the day. Today, very few hostels still require chores – beyond washing up after self-catered meals – or have a "lockout" at night.
Differences from hotels
There are several differences between hostels and hotels, including:
Hostels tend to be budget-oriented; rates are considerably lower, and many hostels have programs to share books, DVDs and other items.
For those who prefer an informal environment, hostels do not usually have the same level of formality as hotels.
For those who prefer to socialize with their fellow guests, hostels frequently have more common areas; the dormitory aspect also increases social interaction.
Hostels are generally self-catering. Kitchens are fully-equipped with all necessary cooking utensils, dishware, cutlery, refrigerators, stoves, and cleaning supplies.
Hostels are generally more "adventure travel" oriented than "leisure travel" oriented – thus attracting a younger, more venturesome crowd.
A "lights out" policy is generally enforced in the sleeping quarters of hostels after 11 p.m.

Communal accommodation
There is less privacy in a hostel than in a hotel. Sharing sleeping accommodation in a dormitory is very different from staying in a private room in a hotel or bed-and-breakfast, and might not be comfortable for those who require more privacy. Noise can sometimes make sleeping difficult – whether from snoring, sexual activity, someone returning late or leaving early, or simply the proximity of other people in a shared space. However, this can be mitigated by carrying earplugs. It should be said that experienced hostellers try to be considerate of others.
Care should be taken to secure one's personal belongings when sharing a common living space. Most hostels offer some sort of system for safely storing valuables, and an increasing number will offer private lockers; it's not a bad idea to bring your own combination lock, just in case. There are other things to consider, as well, when choosing a safe hostel – such as whether they impose a guest curfew (for visitors not staying overnight), uphold fire codes, and have a 24-hour security system with CCTV (video monitors).

Types of hostels
While the traditional hostel format involved dormitory-style accommodations, some newer properties also include en-suite facilities with single-, double- or quad-occupancy rooms – though to be considered a hostel they must also provide dorm rooms.
There is no longer an age limit at most hostels, as there was once upon a time. Therefore, it is not unusual to encounter guests in their retirement years at many places, although there are a few facilities whose late-night partying traditions tend to attract the younger set. It wouldn't hurt to conduct a little advance research of your own, just to see if your lifestyle is compatible!
In recent years, the numbers of independent and backpackers' hostels have increased greatly, catering to growing numbers of overland, multi-destination travelers (such as gap-year folks and rail-trippers). As a result of competition, the overall quality of such places has also improved dramatically. Curfews, daytime lockouts, and/or the requirement to do chores have become a rare exception rather than the rule – as hostels continually adapt to meet guests' changing expectations.

Hostels come in all shapes and sizes, and some are sightseeing destinations in themselves. According to the guidebook guru Rick Steves: "There are castles (Bacharach, Germany), moored ships and a converted jumbo jet (Stockholm), alpine chalets (Gimmelwald, Switzerland), huge modern buildings (Frankfurt), lakefront villas (Lugano, Italy), former prisons (Stockholm and Ljubljana, Slovenia), medieval manor houses (Wilderhope Manor, England), former choirboys' dorms (St. Paul's, London), country estates (Loch Lomond, Scotland), and former royal residences (Holland Park, London)."
The links below offer a variety of hostel accommodations, some privately owned and operated, others which are members of national and international organizations. Age requirements or limitations vary among establishments, so check the listings to see if you qualify. Advance reservations are highly advisable during Paris' peak seasons, though a handful of beds are sometimes held for last-minute arrivals. Some facilities offer limited family quarters, so check ahead if you wish to book a stay with family members.
Other options
If you plan to séjour a week or longer, consider the more private alternative of a hotel suite or an apartment-hotel – fully equipped with a kitchen, utensils and other amenities to make you feel right at home. Popular apartment- and suite-hotel properties include Adagio, Appart'City, Appartement, Appart'hotel, Citadines, Cosy's, Fraser Suites, Park & Suites Prestige, Résidence Alma Marceau, Résidence Villa Daubenton, Résidhome, and Turenne Le Marais.
For a shorter stay, or if you tend toward more traditional vacation lodgings, check out our selection of reputable French and international hotel chains such as Best Western, Campanile, Comfort, Golden Tulip, Holiday Inn, Ibis, Kyriad, Libertel, Marriott, Mercure, Novotel, Quality, and Timhotel, as well as a selection of fine establishments recommended by Fodor's, Frommer's, Lonely Planet, Michelin, and other reliable guides. You can book your hotel stay online using our convenient, secure reservation system! If you already know the name of a property, use our handy Search Form.
Transportation
Visitors to Paris will discover that the City of Light offers one of the best public transportation systems in the world, including an extensive Métro (subway) system with stations situated everywhere, plus bus service running at all hours. Backpackers who are planning to explore the provinces will find numerous outlets for bicycle rentals, many of them at or near train stations.

For travel by train, it is highly recommended that you purchase your rail passes in advance, as tickets purchased in France can be much more costly.
If you plan to drive around France and wish to arrange a car hire/rental, be sure to do so before you depart from home, as our guaranteed lowest rates are much cheaper than those you'll encounter once on French soil. Those who are traveling with several companions will find a car hire of a week or longer to be a viable alternative to the price of train travel, though the cost of gasoline and highway tolls should be factored into the budget. Our handy online quotation and reservation system takes the worry out of finding the best deal and arranging to have a car waiting for you when you arrive.
Understanding postal codes and districts
Address: 750xx indicates postal code; last two digits represent the arrondissement : i.e., 75008 = 8e, 75016 = 16e, etc.
Check prices & availability for your travel dates:
| | |
| --- | --- |
| Paris Lodgings | |
Aloha Hostel
Centrally located, within easy walking distance of Paris' most famous sights.
Address: 1, rue Borromée, 75015 Paris (Métro: Volontaires; line 12).

Friends Hostel
Located in the charming Montmartre district; air-conditioned rooms, café, swimming pool.
Address: 122, boulevard de la Chapelle, 75018 Paris (Métro: Barbès-Rochechouart; lines 2, 4).

Peace and Love Hostel
Age limit 18-35; completely renovated, TV on first floor, great sound system, free Wi-Fi access.
Address: 245, rue La Fayette, 75010 Paris (Métro: Jaurès; lines 2, 5, 7bis).

Le Régent Hostel and Budget Hotel
Just a few blocks from Sacré Coeur or Pigalle, close to hundreds of bistros, pubs and cafés.
Address: 37, boulevard de Rochechouart, 75009 Paris (Métro: Anvers; line 2).

Square Caulaincourt Hostel
In magical Montmartre; nice, clean & friendly; newly opened bar (4pm - 2am), terrace, free breakfast.
Address: 2, square Caulaincourt, 75018 Paris (Métro: Lamarck-Caulaincourt; line 12).

St. Christopher's Inn
Awarded 'Most Popular Hostel in Paris' and 'Best Hostel in France'; opened in 2008; Belushi's bar, Internet room.
Address: 68-74, quai de la Seine (Bassin de La Villette), 75019 Paris (Métro: Crimée; line 7).

Le Village Hostel
All rooms are air conditioned with own shower, toilet, sink, telephone, and include free linen & blankets.
Address: 20, rue d'Orsel, 75018 Paris (Métro: Anvers; line 2).
| | |
| --- | --- |
| Alsace | |
| | |
| --- | --- |
| Aquitaine | |
Hôtel Clémenceau
Address: 4, cours Georges Clémenceau, 33000 Bordeaux (Gironde).
Hôtel St. James
Address: 15, rue Gambetta, 64200 Biarritz (Pyrénées-Atlantiques).
| | |
| --- | --- |
| Auvergne | |
Home Dome
Address: 12, place de Regensburg, 63000 Clermont-Ferrand (Puy-de-Dôme).
| | |
| --- | --- |
| Brittany | |
| | |
| --- | --- |
| Languedoc-Roussillon | |
Sidsmums Travellers Retreat
Address: 11, chemin de la Croix d'Achille, 11250 Preixan, Carcassonne (l'Aude).
YMCA Avignon
Address: 7 bis, chemin de la Justice, 30400 Villeneuve-lès-Avignon (Gard).
| | |
| --- | --- |
| Lorraine | |
Hôtel Américain
Address: 3, place André Maginot / 61, rue Pierre Semard, 54000 Nancy (Meurthe-et-Moselle).
| | |
| --- | --- |
| Midi-Pyrénées | |
Arnaud Bernard Hotel
Address: 33, rue de la Chaine, Place des Tiercerettes, 31000 Toulouse (Haute-Garonne).
| | |
| --- | --- |
| Normandy | |
La Bertelière
Address: Le Mesnil-Gremichon, 76160 Rouen-Saint Martin du Vivier (Seine-Maritime).
| | |
| --- | --- |
| Poitou-Charentes | |
| | |
| --- | --- |
| Provence | |
Hôtel Antares
Address: 5, avenue Thiers, 06000 Nice (Alpes-Maritimes).
Residence Regency
Address: 2, rue St-Siagre, 06000 Nice (Alpes-Maritimes)
Hôtel Cézanne
Address: 40, boulevard d'Alsace, 06400 Cannes (Alpes-Maritimes).
Les Cigales
Address: Route Enco de Botte, 13190 Allauch/Marseille (Bouches du Rhône).
Hôtel de la Corniche
Address: Corniche du Liouquet, 13600 La Ciotat, Cassis (Bouches du Rhône).
| | |
| --- | --- |
| Rhône-Alpes | |